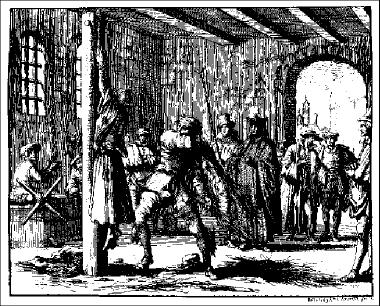 Ursula of Essen and her husband Arent
In 1569 Anabaptists, Ursula of Essen and her husband Arent, were arrested and tortured in Maastricht, Netherlands. They were caught in a reign of terror conducted by the Duke of Alva, Spanish vice-regentin charge of the occupation of the Netherlands. Ursula, Arent and two women were imprisoned, subjected to verbal threats and tortured in an effort to force them to reveal names of fellow members of their growing Anabaptist congregation.
Ursula was stretched on the rack twice and then suspended by her hands and whipped with a bundle of switches. An older woman, one of the four, was not placed on the rack because of her age. All four refused to implicate any fellow believers. Each had their mouth stied shut by the executioner to prevent singing and speaking to sympathetic spectators. Each was separately cast into a hut of straw and burned to death.